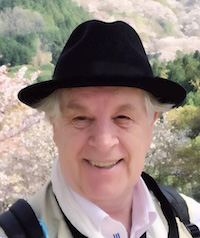 Zichi Lorentz.
Visual Artist.Commentator-Publisher.
Liverpool UK (1952-1971).
London UK (1971-1994).
Japan (1994-).
Present location:Kobe City
My painting galleries are divided according to theme, like abstract. flowers, landscapes, seascapes.
Just some basic notes about my paintings and the different themes.
Plein Aire Painting Notes
Some info on that
I didn't write the beginning and I can't remember who did, but great summing up on painting outside or Plein Aire Painting.
To those who do not practice the noble art of painting, it may seem the life of the artist is one long pleasure. While this may be true in Hollywood movies it is far from the truth of the real artist. The inner life and struggles of the artist are rarely revealed except to those who are close to one.
Each time the artist stands before a blank white canvas, the deep emotions bubble up to the surface, releasing fear and doubt about one's capabilities and whether one will succeed to materialize the dream that is locked in the head waiting to be released. Like a child waiting to be born.
To distinguish a painting the artist must imbue his emotions into the work otherwise the artist is simply reproducing what nature is already better at. In the initial stages of a painting, the artist is concerned about his own limitations and not whether the public will take to the painting.
The true artist paints the subject matter that pleases him and in a way that pleases him, and not what he thinks will please his public. If the public is able to connect with the finished work then that is an additional benefit to creating a successful work.
For the artist, there are many stages, from the initial fear of the blank canvas to successfully exhibiting and selling the final painting. The artist is committed to design and building up the painting layer by layer, which in my case usually involves about fifty. The artist needs to analyse what is before his eyes and make decisions of design and technique on what will be omitted rather than what will be painted.
The daily challenge is to develop artistic style and technique which is achieved by letting loose of ingrained habits that have served well. To give up something so deep in exchange for something with no guarantee of success is a risk every artist must take to prevent the work from becoming stale.
Unfortunately, creative energy is not like a vast ocean which flows and ebbs several times a day. There will be periods of creative dry spells and artistic blocks which are best left to their own devices while the artist uses this time to attend to the many other matters involving the life of the artist.
When the creativity returns it will be at the next level of accomplishment.
Being an artist means never having enough time to paint as much as you would like. Most artists are one-man shows responsible for marketing, advertising, framing, crating, and shipping their work. Then, there is the paperwork involved in any business, bookkeeping, paying bills, and taxes, all of which require the artist to use the other half of his brain.
Then, there are the humorous moments of Plein-Air painting best described by Vincent Van Gogh,
Just try going outside and painting things on the spot! All sorts of things happen then. I had to pick off a good hundred or more flies from my canvases ... not to mention dust and sand [nor]the fact that if one carries them through heath and hedgerows for a couple of hours, a branch or two is likely to scratch them ... and that the effects one wants to capture change as the day wears on.
Many times I have loaded my mountain bike with my painting equipment, cycled 50km to reach a painting spot which otherwise can't be reached by car. I have spent two days climbing alpine mountains, loaded with my painting equipment just to reach a painting spot were I only have an afternoon before descending again.
From 1994-2002 I lived and worked in the Japan Alpine and it was always a struggle to reach the best painting spots but always worth the effort.
Is the life of an artist worth the struggle? Absolutely! Nothing surpasses the gratification of knowing your contribution to society.
You are not here merely to make a living. You are here in order to enable the world to live more amply, with greater vision, with a finer spirit of hope and achievement. You are here to enrich the world, and you impoverish yourself if you forget that errand. -Woodrow Wilson