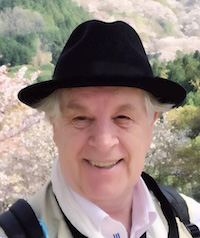 Zichi Lorentz.
Visual Artist.Commentator-Publisher.
Liverpool UK (1952-1971).
London UK (1971-1994).
Japan (1994-).
Present location:Kobe City
My painting galleries are divided according to theme, like abstract. flowers, landscapes, seascapes.
Just some basic notes about my paintings and the different themes.
ISSUU is a great site for publishing your own books and material, which I have used since its beginning.
zichi Lorentz Artist & Painter
Some thoughts on that
This is my art web. For 40 years I've been a painter, and at times, other things too. I live in Japan, at least since 1994, quite a long time. I love living hereabouts, for many reasons but certainly one is because my wife is Japanese. These days I mostly work in acrylics and sometimes watercolors, which I love. But I also think I'm more than just a painter. I hope you'll find something of interest. Since people are usually in a rush these days you can jump straight into my painting links, and then explore the rest of my site if you wish..
I have had a web presence since 1994, and 20 years on the internet is equal to several lifetimes. In the beginning, the websites were very limited and crude but it was a very exciting time to become involved in that evolutional aspect of the world wide web, as if, some magical child had been born.
My web site developed from that basic birth into something very sophisticated with all the latest bells and whistles. It was always "heavy" with image files, well it's an art site, yes? That was very problematic in the beginning especially with slow computers connected to the web with those dial-up modems. Seems like the stone age now! Life does not stand well, especially with technology.
My web site went from html tables to xhtml fluid layouts to html5. They worked across devices, except for phones. Today, people are using several devices in their dail life. Smart phones, notebooks, laptops, desktops and tablets. Some people think the answer is to provide a website for each type of device and screen resolution. That's way too much work for me. I want to make a single website which functions across all devices including smart phones.
So I've reached the point of updating my website using responsive html5, and at least for the moment I'm trying out this using the open source template from HTML5 UP.
Thinking about content over structure again, led me to think about "LIFE", which means "life is for enjoying" and so the move into responsive layouts should be equal to "LIFE" and fun of adding content rather than getting hung up on the site structures, provided I make them work across all devices, and very importantly that the html and the CSS validates. That is so important if you want your site to work across all browsers.
Art is a Journey not a Destination
Some thoughts on that
With my art I try to bring hope where there is none, to bring happiness when there is only darkness, to replace nihilism with faith in humanity. As we plead for democratic ideals all over the world, we need to remember that the most convincing proof of the fruit of democracy can be found in our own museums, concert halls, and arts curriculum. An exchange of art and culture between countries leads to a greater understanding between nations creating a more peaceful world. Does that sound too much? Ah! well.
For further info, you can check out the links in the right column, like Introduction.....
There was a time, many years ago when I used oil paints and although I liked some aspects, like the slow drying I never liked all the unhealthy chemicals and smells. For many many years I have painted with acrylics and love using them. I also love not having to use any chemicals. I also like watercolors. I love the simple technique of some paper, some colors and a bit of water.
I have a large very comfortable art studio but my main studio is the great outdoors. I love nothing more than spending the day outside painting. It's never easy, battling with the weather, and people who come by and want to stop and chat. Basically, I suppose I'm a landscape painter but I'm also more than that. I make abstract painting too, but really all painting is in fact abstract. Big works have to be painted in my art studio. My largest works are about 3m x 2m.
Plein Aire is a French painting term which means painting outside which first came into fashion with the impressionists who needed the true light of nature to capture the colors. It must be remembered, there was no electric lighting in those days, nonetheless, I feel that outdoor painting creates a better work than working from photo's indoors.
The work becomes more spontaneous less worked. Working in the nature is a hard master.
For a fuller description of Plein Aire, you can read my Plein Aire Notes and My Art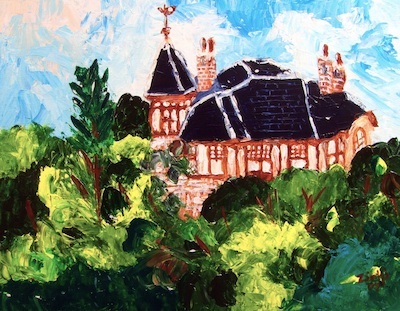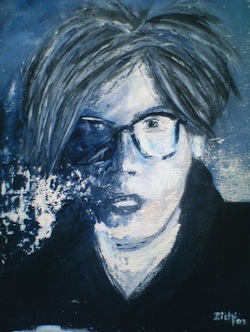 My ISSUU Book Shelf
Reading
Issuu is a great site if you want to publish books, documents etc. I have used the site since its beginning which is quite a few years. You can make pdf's of your work, art, photo's and upload them to the site to be converted into a flip page book form. I think these are a good way to present your work which otherwise can take up time and space when building a website.
The Tale of Genji was written by a Japanese Court Lady, Murasaki Shikibu in the Heian period, about 1000 years ago. Claimed by many to be the world's first modern novel and Japanese finest. It has inspired countless artist to make woodblock prints, paintings and Japanese style screens, Byobu's. In 2008 stated it was 1000 years old.
You can visit my ISSUU site or use the links I have provided in the right column.