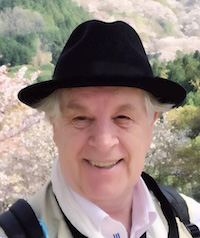 Zichi Lorentz.
Visual Artist.Commentator-Publisher.
Liverpool UK (1952-1971).
London UK (1971-1994).
Japan (1994-).
Present location:Kobe City
Just some basic notes about my paintings and the different themes.
Seascape Painting Notes
Some info on that
I was born near the sea my favorite?
When I lived in the Japan Alps (1994-2002) finally I began to miss seeing a horizon. Being in alpine mountains become like living in a tunnel without a roof. Most of the sky, is vertically upward. There is no true horizon. Moving to Kobe City, a sea port, bought the horizon back into my life. The thin blue line is both the sea, and the horizon.
One of the most famous Japanese Seascapes must be "Behind the Great Wave at Kanagawa" (from the Thirty-six Views of Mount Fuji) by Katsushika Hokusai. 1760-1849.
I discovered that Hokusai had lived in a small town, Obuse which was not too far from my studio. Today there is a Hokusai Museum. There is the traditional house which was the home and studio of Hokusai, which is preserved and still in good condition.